PowerShell Quick Reference for Microsoft Teams
Hands-on PowerShell quick reference guide
An ideal support for all who already manage or want to manage Microsoft Teams with PowerShell.
Whether you are just starting to use PowerShell or are already a power user, this cheat sheet has the most important cmdlets for your Microsoft Teams routines in a single PDF. It contains 8 pages full of ready-to-use PowerShell snippets and real-life examples.
Accelerate your Teams automation journey today!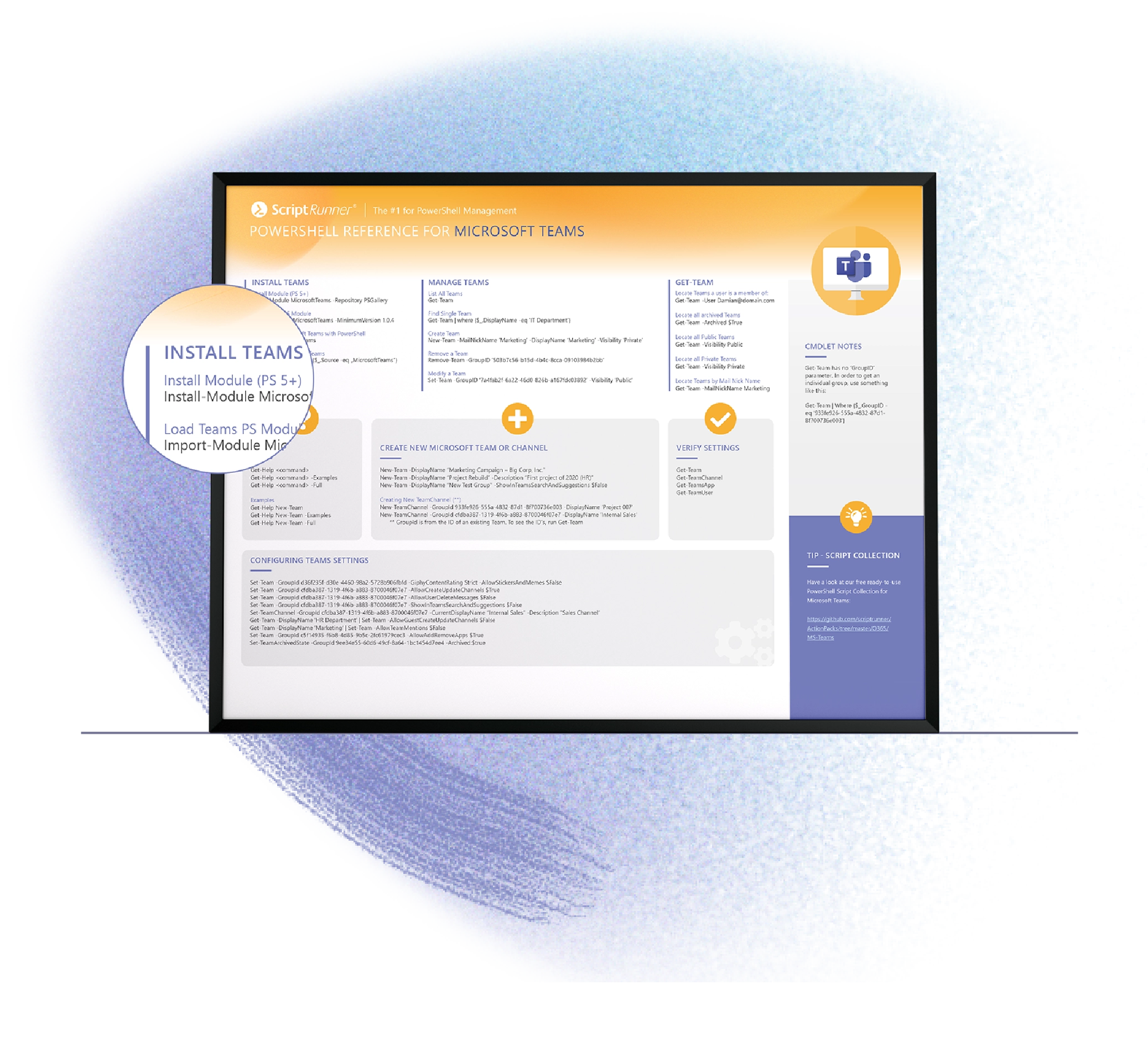 INSTALL TEAMS
MANAGE TEAMS
GET-TEAM
GET-HELP
CREATE NEW TEAM OR CHANNEL
VERIFY SETTINGS
CONFIGURE TEAMS SETTINGS
TEAMS CLEANUP
OTHER TEAMS SETTINGS
TEAMS FEEDBACK POLICY
TEAMS HOLIDAYS
TEAMS CLIENT CONFIGURATION
CORTANA POLICY
SIMPLE TEAMS SCENARIO
COMPLEX TEAMS SCENARIO
GUEST CALLING POLICIES
EDUCATION ASSIGNMENT APP POLICIES
TEAMS COMPLIANCE RECORDING
TEAMS VDI POLICY
TEAMS MEETING POLICY
TEAMS APPLICATION SETTINGS
TEAMS MEETING CONFIGURATION
TEAMS GUEST MEETING CONFIGURATION
TEAMS MOBILITY POLICIES
TEAMS IP PHONE POLICIES
TEAMS VERTICAL PACKAGE POLICIES
TEAMS CALL POLICIES
TEAMS MESSAGING POLICIES
TEAMS TARGETING POLICIES
TEAMS NOTIFICATION AND FEEDS POLICIES
TEAMS SHIFTS POLICIES
TEAMS TRANSLATION RULES
EMERGENCY CALLS
GET CSTENANT* CMDLETS
LOCATION INFORMATION SERVICE
The Author
Damian Scoles is an eight-time Microsoft MVP, specializing in Exchange, Office 365 and PowerShell.
He is currently based out of the Chicago area and started out managing Exchange 5.5 and Windows NT. He has worked with Office 365 since BPOS and has experience with Azure AD, Security and Compliance Admin Centers, and Exchange Online.

Contributions to the community include helping on TechNet forums, creating PowerShell scripts that are located in the TechNet Gallery,
writing detailed PowerShell / Office365 / Exchange blog articles, tweets and creating PowerShell videos on YouTube.
He has written five PowerShell books and is actively working on the Microsoft 365 Security for IT Pros book as well.