Make PowerShell a real solution
ScriptRunner is the leading solution for PowerShell management.
You can delegate PowerShell scripts to helpdesk and end-users with our easy-to-use web application. On top, ScriptRunner offers you a central place for all your PowerShell scripts, credentials and activities.
With ScriptRunner's free PowerShell poster you can see the most important commands at a glance - that's your help with PowerShell scripting!
The poster is printed on both sides - on one side with the PowerShell commandlets,
on the other side you can find an overview of the user interface of the ScriptRunner Admin app and its functions.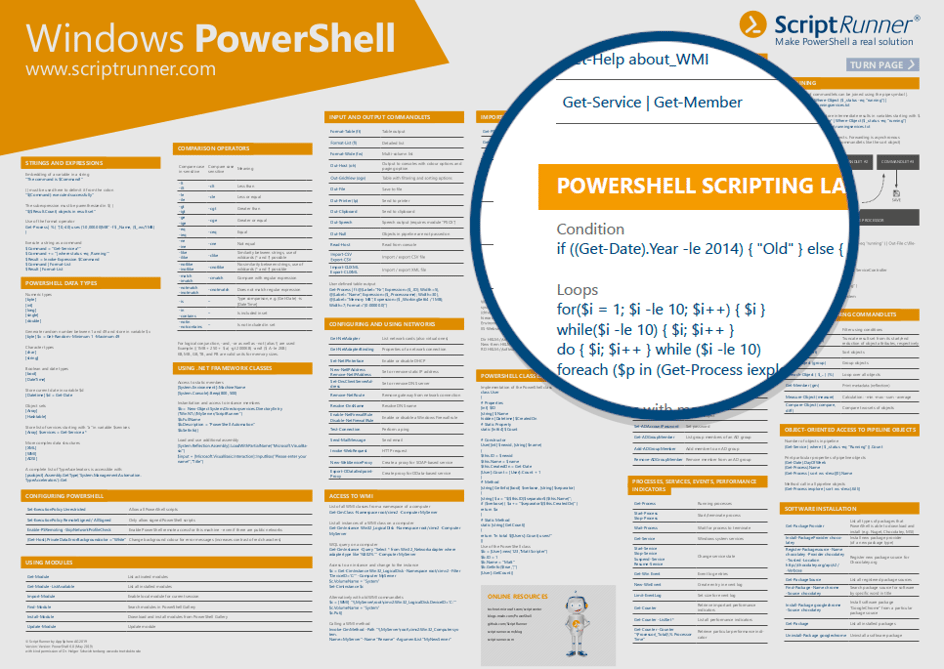 The PowerShell side
The ideal support for scripting with the PowerShell.
The PowerShell page provides you with an overview of the most important PowerShell commandlets, script commands, and resources.
From basic topics such as different data types to Active Directory cmdlets, beginners and experts will find useful cmdlets and script commands here.
Configuring PowerShell and Networks

Using modules and .NET Framework classes

Access Win. Management Instrumentation (WMI)

PowerShell scripting language

Input and output commandlets
Use of the Component Object Mobile (COM)

Pipelining and navigation cmdlets
Processes, services, events, performance indicators
Object-oriented access to pipeline objects
Information on handy online sources for further PowerShell know-how
The ScriptRunner side
Easy automation and delegation for SysAdmins with the PowerShell
You want to automate or safely delegate your PowerShell scripts to other users ( for example, the helpdesk)?
On the ScriptRunner page you an see the interface of the ScriptRunner-Admin App. You will also find a description of the basic UI elements and an introduction to the ScriptRunner solution. Furthermore, the poster contains a detailed explanation of the various menu items, which makes it easier for you to use ScriptRunner.
What is ScriptRunner? Find all information here: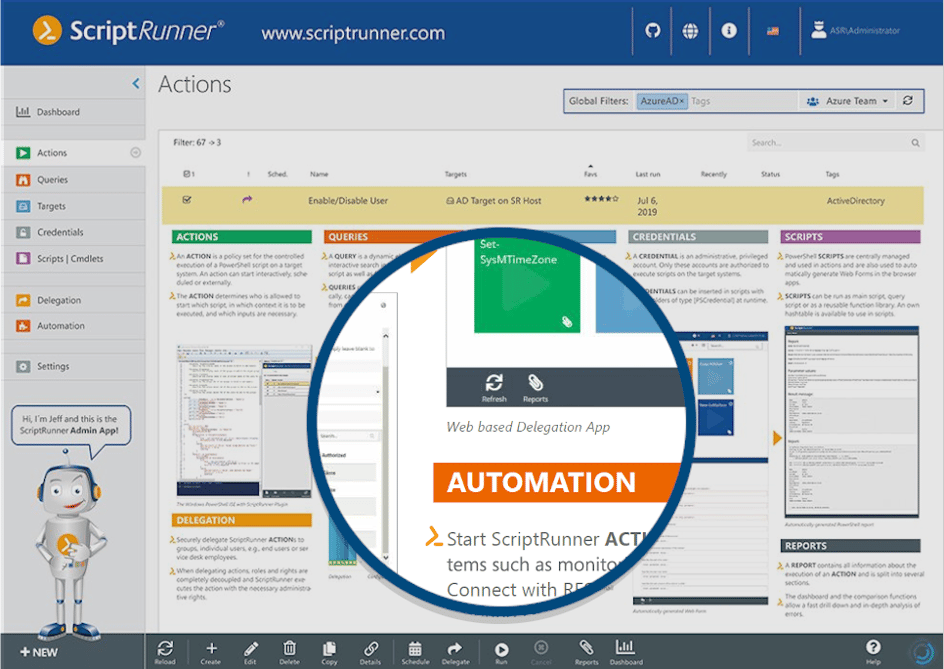 Actions for controlled execution of PowerShell scripts on target systems.
Queries provide an associated list of display and parameter values of a referenced PS input parameter.
Targets allow you to manage individual systems or containers with PowerShell scripts.
Automation of your IT operations by starting actions from a third-party system (for example, monitoring, ITSM, or workflows).
Delegation of actions to group or individual users, such as other administrators, helpdesks, or even end users.
Scripts: Use the script header information to describe input fields and functions of the script.

Want the PowerShell poster to be up in your office, too?
Please fill out the form and we will send you 2 posters as a free package!

Please note: Don't forget to enter your company data. We do not send the poster to private persons.
The poster is completely free of charge for you, we also cover shipping costs.
We send the poster as a file by email to all countries of the world. For cost reasons, we only ship by post to selected countries.

Additionally, you will receive a download link for the PDF-version to your e-mail address.

Due to the high demand, shipping may be delayed by a few days.





Thank you for your understanding.
---
Post your poster & win
Get your monthly chance to win our exclusive ScriptRunner headphones.
Share a photo of our PowerShell poster or stickers with the hashtag #KeepOnScripting or our Twitter handle @Script_Runner
and automatically enter our monthly prize draw
More information and Terms & Conditions